My Role
User Research - Screener Survey, Interviews, User Flows
UI and Visual Design
Website Re-design
3 weeks, 4 Designers
Highly collaborative creative project
Research
Discovered user and business insights
Synthesis
Expressed the user experience through affinity maps, customer journeys, user flows, and storyboards based on the research
Paper Sketching & Brainstorming
Sketched out interface ideas as a team
Low and Mid-Fidelity Prototypes
Created paper and digital prototypes based on research and exciting ideas
Usability Testing
Tested both paper and digital prototypes
Hi-fi Prototype
Iterated based on testing, branding, and best practices
Kick-off: Intro & Research
Opus Affair's Objectives & Values
Opus Affair is an arts networking and marketing organization that organizes monthly networking events. Online membership is free and open to anyone.
People-oriented, inclusive

Connection across disciplines

Exciting and fun
With the help of our client, we used a screener survey to recruit Opus Affair members for interviews. Quite a few were delighted to chat about their memorable experiences with Opus Affair.
"I use the website to add events. The more people interested in your event, the more it gets featured and then even more people come!"
"I am very involved in Opus Affair"
"I have made important connections at these networking events."
"I was initially impressed by the layout of the calendar of Opus Affair's site, but it was difficult to navigate and interpret."
"I usually view the calendar for upcoming events, events I've responded to, and events my friends are involved in."
"The website has a short optional bio, but it doesn't have their artistic profession and you can't search for that."
"I like to network"
Interesting finds… members usually go on the website to find upcoming events in the calender:
Calendar is nice-looking, but difficult to interpret because
User Insights and Motivations
Convenience

Social motivation
The Problem
Opus Affair's website has a calendar system that is confusing for users and does not easily encourage the use of profile features, so users are not utilizing on-site event registration that would encourage more users to attend events by knowing that their friends are also attending.
Proposed Solution
By updating and improving the calendar functionality and tying it into a user profile system with improved visibility and social connectivity options, we will provide Opus Affair with a robust tool for improving the visibility and attendance encouragement of Opus Affair events between members, which will provide both increased event attendance and easier ways to bring in new members. We will know this to be true when implementation of the new calendar and profile functions significantly improves member registration for events, and users start utilizing new features that allow them to share what events they will attend.
Paper Sketching & Brainstorming
We sketched out ideas to solve the identified issues with the current website. The focused on changing the home, calendar, and profile pages based on user and business goals.
User Flow for Prototype Creation
High-Fidelity Prototype & Web Pages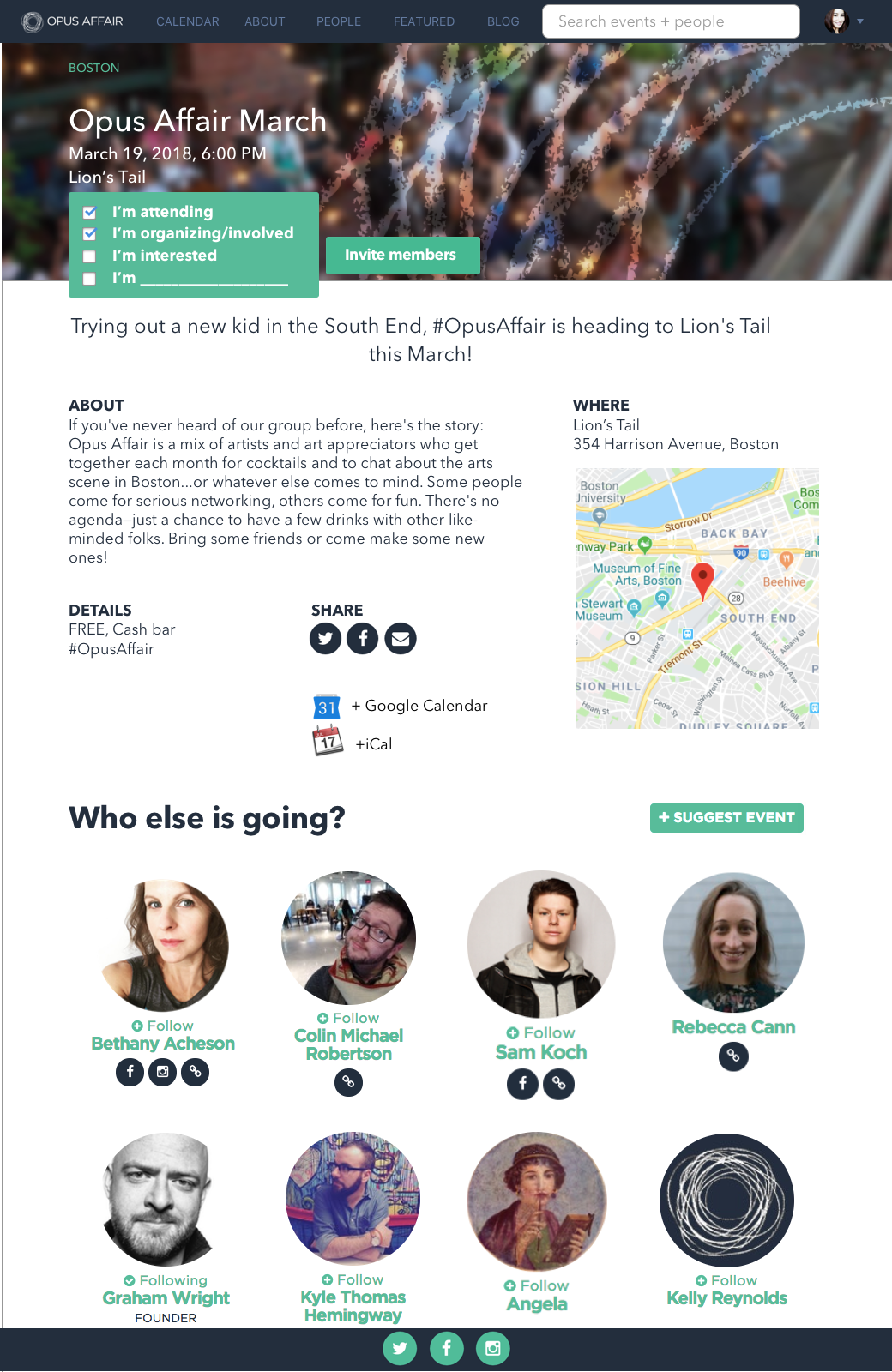 Reflecting
This project focused on strategically integrating new features and enhancing existing features, such as the calendar sorting options. The main user and business goals included making the calendar easier to interpret, specifying event participation via RSVP, make user profiles more interesting, connecting members, and searching for events based on location. Keeping the website true to the Opus Affair brand, we implemented a simple green highlight on the calendar sorting feature to make it more obvious to users. We also implemented a map to filter events by zip code. For the event pages that include the RSVP dropdown, we included a fill-in-the-blank option to indicate event involvement. For profiles, we included interesting questions to gather and display fun information about members (example: "If you had one superpower, what would it be?").